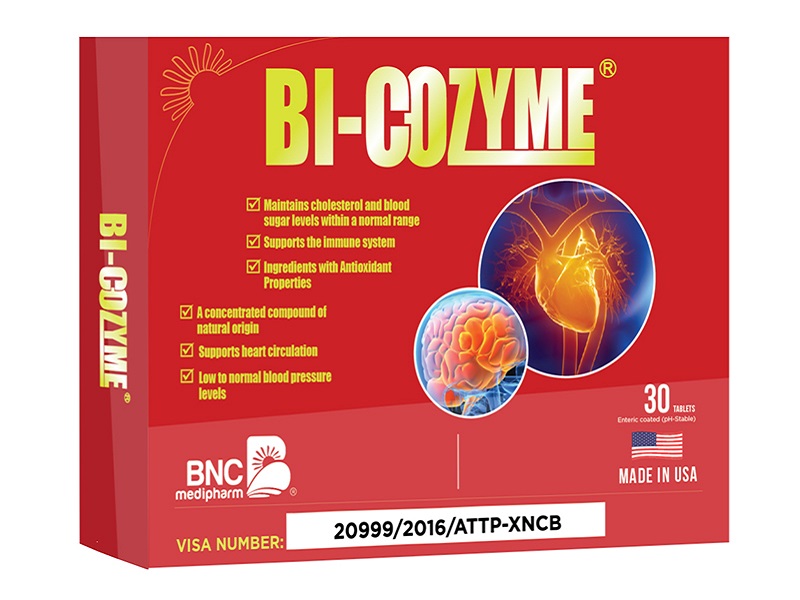 TPCN: Bi-Cozyme - Reduced Risk of Brain Circumstantiasis, Stroke
Bi-Cozyme: Helps reduce the risk of blood vessel blockage, myocardial infarction, improve sequelae after stroke
Health food: Bi-Cozyme
Help reduce the risk of blood vessel blockage, myocardial infarction, improve sequelae after stroke
Made and imported 100% from USA
Made in USA.
Uses:
- Helps against free radicals.
- Support limitation of blood clot formation.
- Support against atherosclerosis, reduce the risk of blood vessel blockage, myocardial infarction, improve sequelae after stroke
Attention: Pregnant women, during menstruation, menorrhagia, bleeding people, preparation for surgery should not use products.
Target users: People with certain cardiovascular diseases, coronary artery, thrombosis, high cholesterol, atherosclerosis.
Directions for use: Take 1 capsule twice daily, drink 45 minutes before meals or drink as directed by your doctor or dietitian.
Storage: Store in a cool, dry place, away from direct sunlight.
Shelf life: 48 months from date of manufacture. Production date and expiry date are shown on the package
Package: Box of 2 blisters of 15 blisters or box of 4 blisters of 15 blisters each, bottle of 30 tablets, bottle of 60 tablets or 120 tablets.
Ingredients: 1 tablet contains Serrapeptase 1000000 HTU / g (proteolytic enzyme extracted from non-Serratia E15 intestinal bacteria) 2mg, Bromelain (2400GDU / g) Caffberry Fruit / Juice PE 12: 1 (Cranberry Fruit Extract) 200mg, Coenzyme Q 10 20mg, Rutin Complex - Composition of orange, lemon, grapefruit 60mg, Horse Chestnut Seed Ext. 20% (Standardized to 20% Aescin) - Horse chestnut extracts (normalized to 20% Aescin) 2mg , White Willow Bark Ext. (Standardized to 15% Salicin) - White willow bark extracts (standardized to 15% Salicin) 100mg, Nattokinase 20000 FU / g (fermented soybean extract) 12.5mg
Note: This product is not a drug and does not have the effect of substituting for medication.
PRODUCTS ARE IMPORTED AND DISTRIBUTED DIRECTLY IN VIETNAM BY BINH NGHIA MEDICAL TRADING SERVICE COMPANY LIMITED
Number of certificates in conformity with food safety - 20999/2016 / ATTP-IC
Address: 26/130 Tuu Liet, Quoc Bao, Van Dien, Thanh Tri, Hanoi
Tel: (04) 36830838; Fax: (04) 3668 6800
Office of Trading and Product Introduction:
Ki No 2, No 22, Phap Van, Hoang Liet, Hoang Mai, Hanoi
Email: info@binhnghiamst.com
Document
https://drive.google.com/open?id=0B9mXqmB3sW3PTHYybFF3XzA0NFU